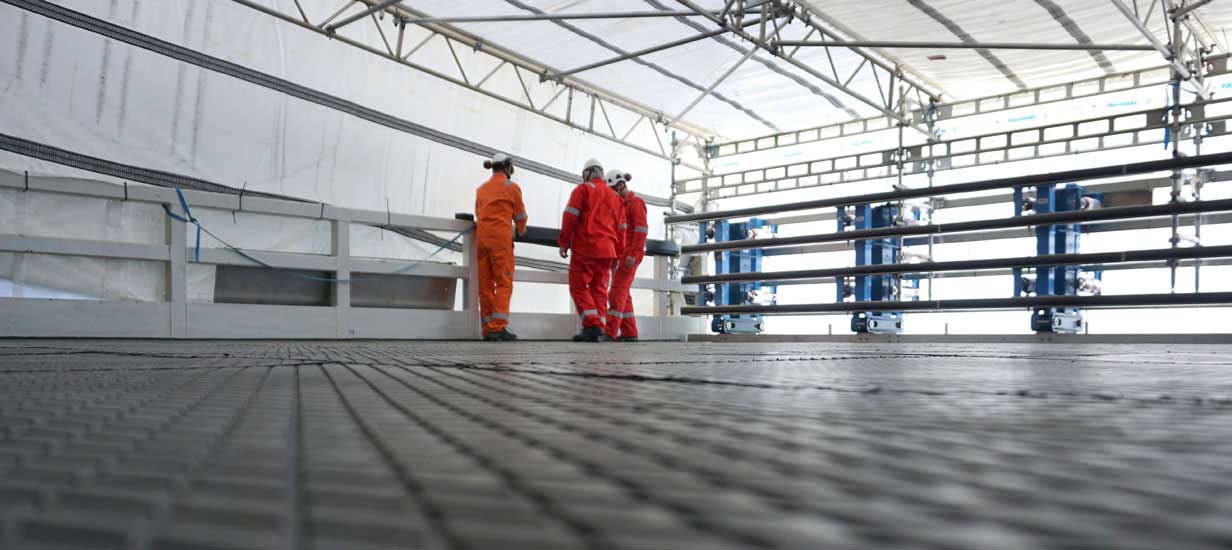 Materials expertise supports unique topside safety and protection requirements
Equinor is an energy company with more than 21,000 employees developing oil, gas, wind and solar energy in more than 30 countries. In order to serve its customers, a new oil field in the North Sea, 140 kilometers west of Stavanger, Norway, Johan Sverdrup was commissioned to open in late 2019. This would become Norway's third largest oil field, producing 470,000 barrels of oil per day during phase 1, powered using mainly hydroelectric power.
Johan Sverdrup field is around 200 square kilometers in size. At the peak of production, the field will account for roughly 30% of the total oil production on the Norwegian Continental Shelf. With accommodation for 560 people, the field consist of several platforms all linked by bridges, standing in approximately 110 meters of water, making safety of paramount importance.
The challenge
Having previously worked with Vipo (Previously Trelleborg Offshore Norway) to provide thermal insulation, corrosion and passive fire protection solutions for the platforms on Johan Sverdrup, the contractors contacted the team again to explain the floor protection solutions they had previously used, along with the various challenges they came with. One key issue with the standard wooden protection normally used, was that it required a large amount of ongoing maintenance to prevent the creation of loose debris and splinters.
The wooden protection was often noisy and didn't provide any reduction in vibration. These were key drivers for looking at alternative floor protection solutions. The goal was to provide a solution for laydown areas in heavy use from loading and offloading containers, that offered both vibration and noise attenuation, whilst protecting the platform area from damage and wear and tear, with minimal requirements for ongoing maintenance. Vipo were keen to ensure any materials developed would not only meet but also exceed these expectations.
A proven choice
Vipo's Vikodeck® passive fire protection material was identified as the ideal solution for the topside platforms, due to its excellent damping and fire prevention properties, and how easy it would be for the team to install. Vipo knew the material would provide impact protection from dropped containers to the steel decking underneath, as well as damping noise and vibrations. Part of the decision to select Vikodeck® material as the floor protection solution for the topside platforms, was the results seen during the testing of the material. Vipo completed a range of tests to prove suitability including dropping a 1 ton steel block from a 1m height to test impact protection, continually driving a forklift truck carrying steel block materials over the panels to replicate everyday conditions and test wear and tear, sound dampening tests comparing the Vikodeck® solution with an unprotected steel structure, along with a range of friction tests.
Thor Hegg Eriksen, Managing Director, states: "We are proud to have such a wide range of testing capabilities at our facility in Norway. Different customers have testing requirements based on the solution needed for each individual project. In this case, we worked closely with both the contractors and the end user Equinor to ensure we carried out a wide range of tests that would demonstrate material performance and provide assurance of suitability for this project."
Vipo were keen to demonstrate their flexible collaborative approach to projects, by identifying a way to bond the Vikodeck® material to the existing steel structure. The panels needed to be attached to an epoxy surface that had been laid on top of the steel structure. Vipo worked to identify a suitable bonding substrate that they then tested, verified and used to create a permanent bond between the Vikodeck® panels and the epoxy surface.
Unique Topside protection
A total area of 780m2 has been protected by Vikodeck® laydown panels, each 20mm in thickness. The panels were customized to include beveled edges to support forklift trucks and trollies going on and off the platform area loading and unloading supply containers. The laydown panels size and shape were also customized to ensure a good fit around platform structures. Requiring virtually no maintenance once in-situ, the Vikodeck® laydown panels dramatically reduced the maintenance time and costs normally associated with wooden floor protection. The unique material ensures the platform remains safe in all weather conditions, preventing slips and falls in icy weather and eliminating the issue of loose debris and splinters, reducing the health and safety impact on personnel.
An additional benefit of using Vikodeck® material is the added passive fire prevention properties it provides, giving piece of mind that should a fire occur in that area, the material would support containment and not act as an accelerant. In the event of a fire, the material would also provide protection to the steel structure underneath, preventing any structural damage from occurring.