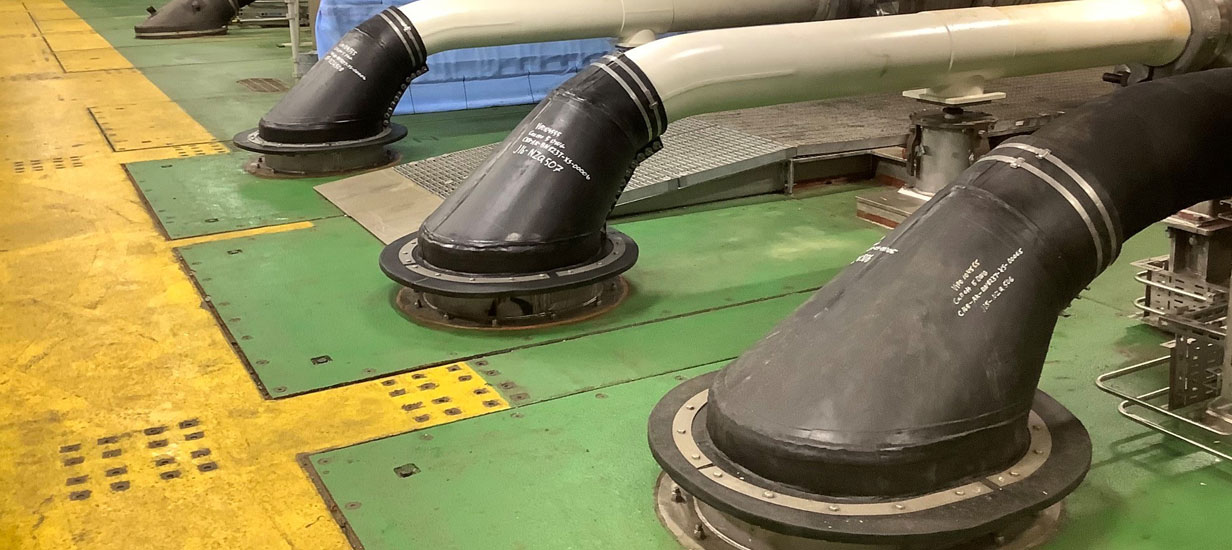 Jet Firestop on Rigid Risers with additional Thermal properties
Our customer, based in Norway, required Passive Fire Protection with additional thermal properties for use on the Norwegian Continental Shelf. The application of passive fire protection (PFP) needed to be carried both at our site and applied to field joints offshore. In addition to the main work on the risers, we provided fire resistant seals and Firenuts to complete the system.
Firestop Rubber application
For this project, we used our Firestop rubber, classified for up to 2 hours of jet fire, and applied it to 10 and 12 inch risers. The maximum allowed backside temperature during the fire period was 400°C. With an operating temperature of 80°C, the temperature increase we needed to consider was 320°C. A jet-fire of 350 kW/m2 for 60 minutes was the defined fire scenario for the riser spools, which normally gives a total thickness of 19mm. In addition, there came a requirement for thermal insulation, that increased the thickness of the PFP layer, in this case with 12mm, up to a total of 31mm.
The bottom corrosion protection layer at 4mm and the top layer of 4mm was also required to complete the project. The bottom layer gives excellent corrosion protection for the lifetime of the riser, without any maintenance, whist the top layer gives the required mechanical protection.
By combining the PFP thickness, our Firestop rubber met all the fire requirements in addition to the thermal properties in one go.
The material is flexible, with excellent adhesion performance onto anti-corrosion coatings and bare metals. The material can be machine applied in the factory and hand applied without use of tooling or pump equipment offshore. This leads to minimal engineering and design time, faster application rates and simple site mobilization.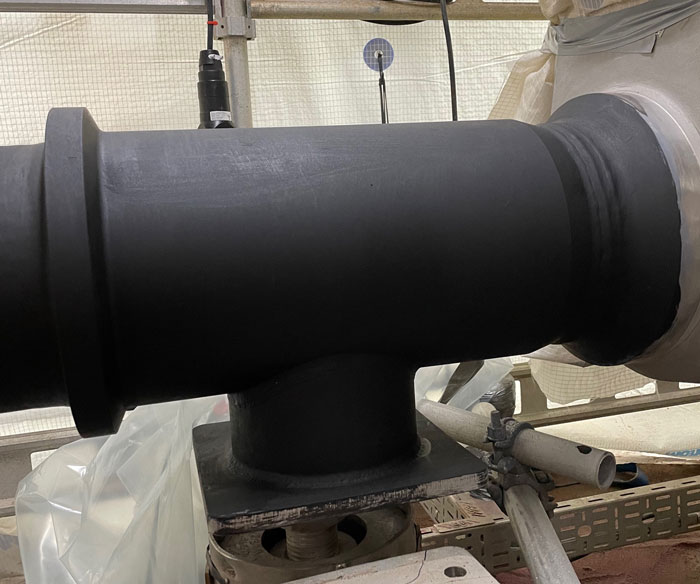 Results
By combining the fire protection and thermal properties of our Firestop rubber, Vipo delivered a solution that was well received by the customer. The solution was easy to apply, without using too many different materials. Vipo could meet the customers' requirements in a good manner, and have received very good feedback, both for the Vipo site- and the offshore field joint job.