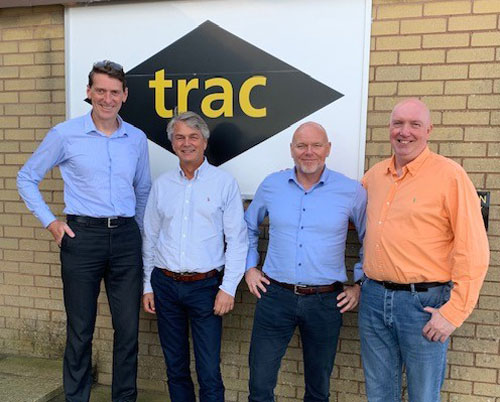 Vipo signs agreement with new distributor for Elastopipe™ and Passive Fire Protection in the UK
Vipo has officially signed an agreement with Trac Energy Ltd., a new distributor for Elastopipe™ flexible piping system and Firestop passive fire protection (PFP) in the UK. This partnership will ensure growth and development in the region while also providing more value for customers with local contact, knowledge and support.
Tommy van Huuksloot, Contract Manager, says "after working successfully together for over 18 years we are further strengthening our service delivery through an exciting new collaboration between ourselves and Vipo!
We are proud to be partnered with such an expert in their field of topside safety solutions in the Energy market. We look forward to this partnership evolving and focussing on current and new customers on this side of the North Sea."
Ben Erik Jansen, Business Group Manager Passive Fire Protection, says: "We are extremely pleased to be in collaboration with such a forward thinking company. Trac Energy has impressed us with their highly qualified people, engineering skills and installation capabilities. We look forward to working closely with them to provide our customers with world class solutions, engineering support and delivery."
"This agreement very much supports our strong position in the European offshore market, as well as future growth ambitions for Elastopipe™ and PFP products in this region." Says Jan-Hugo Nilssen, Sales Manager Elastopipe™.
Trac Energy Ltd. was established in Aberdeen in 1999 and has grown to be a Global provider with offices also in Brazil and Ghana. Trac Energy has an impressive record working within the energy sector providing a range of Engineering Support services Including Rope Access Inspection, Repair and Maintenance for Energy related industries.
Vipo has decades of experience in offering high-end active and passive fire protection solutions. Elastopipe™ exists as a patented flexible piping system developed to protect people, assets, and the surrounding environment during active fire scenarios. The Firestop PFP range ensures the protection of vulnerable areas to allow for people and valuable equipment to be saved in the case of fire spread. Each system has been carefully designed and developed using unique rubber-based materials, rigorously tested according to industry standards and specifications.