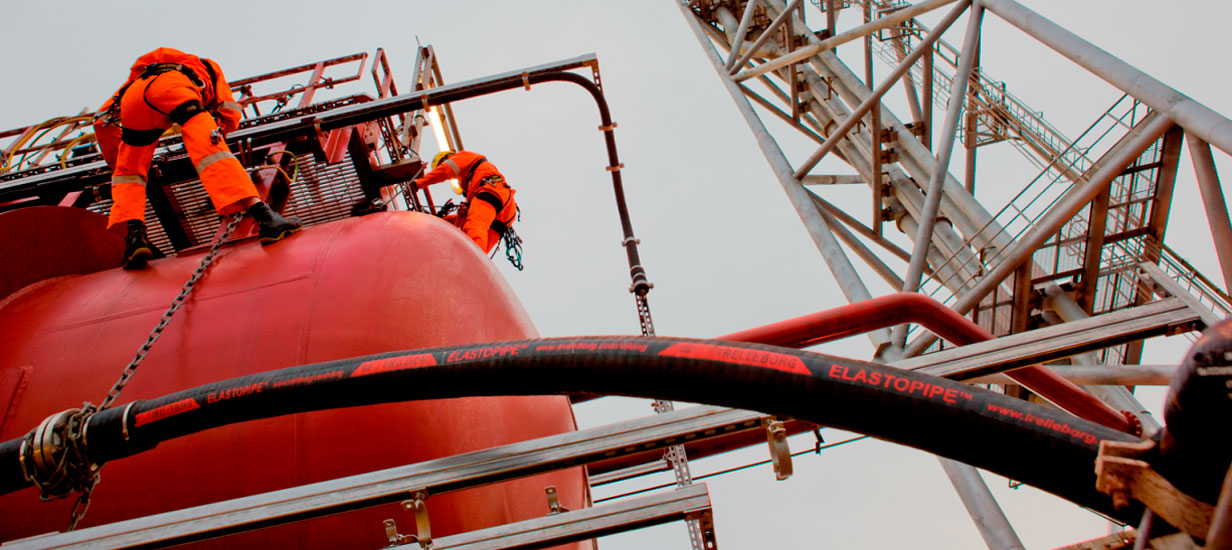 Certified safety in the gulf of Mexico
The offshore industry is constantly innovating and increasing in sophistication, resulting in a need for equipment to be much more reliable, effective and safe. Specifically on offshore facilities, rapid fire spread is a high risk, making fire deluge systems absolutely critical. Unfortunately, there are a significant number of aging platforms and rigs across the globe still using substandard carbon steel systems, which are extremely prone to corrosion.
Safe, superior performance
Aware of this issue, Vipo designed Elastopipe™, a corrosion-free deluge and sprinkler system made from synthetic rubber. With the ability to withstand jet fires with a heat flux of 390kW/m2, temperatures above +2552 °F / +1400 °C and flame speeds that exceed the speed of sound, this system offers much superior performance to its alternatives and has been installed successfully all over the world.Vipo wanted to make Elastopipe™ available to customers in the U.S. and Gulf of Mexico, but to do so; United States Coast Guard (USCG) approval is required. All offshore platforms, drilling ships and FPSOs within the U.S., specifically within the Gulf of Mexico, must receive USCG approval before they can be installed.
Approved performance
The approval process includes an in-house inspection and qualification with an independent lab, random samples to be sent for qualification testing and the submission of relevant drawings, testing, installation procedures and specification documents. The USCG then reviews the inspection report and documentation, before a certificate of approval can be supplied.
Developed in Norway, Vipo's Elastopipe™ Fire Resistant (FR) and Elastopipe™ Fire and Oil Resistant (FOR) solutions were awarded the certificate as a result of meeting the USCG's approval for fire endurance standard of level 3 (L3) and level 3 wet/dry (L3 W/D). The certificate is valid for five years.
"The assessment process was very complex and time intensive, taking a total of six months for the in-house inspection, qualification testing and the USCG review to be completed. However, the certificate is a critical step for Vipo, to enable us to help update the high number of outdated platforms in the Gulf of Mexico with a reliable and high performance product, which will guarantee compliancy with safety guidelines and facilitate extended project lifetimes."
Doug Marti, Market Development Manager at Vipo (Previously Trelleborg Offshore Norway AS)